Food, dining and restaurants
Moroccan cuisine is one of the foundations of world food and the traditions that have made Moroccan foods popular around the globe are well represented here in Chefchaouen.
Whether eating in a small guesthouse that you are staying in, visiting one of the many cafe and restaurants in the Medina or the Square, or buying fresh breads and produce for a picnic while walking the hills there is no end of options for your pallet in Chefchaouen. Local produce is sold direct from farmers while specialties of the regions are imported from around Morocco and offered to all the discerning visitors.
Try some of these specialties to ensure you really get the taste and flavor of Chefchaouen!
Moroccan Restaurants
Molin'arte - Operated by the French expatriate artist Abdelali Laabissi this art themed restaurant has cute views over the city from outside tables and aims to offer local specialties and seasonal produce on a small menu as well as pizza and a wide variety of juices.
Morisco - Known as much for their tajine breakfast as for their lamb and dried fruit dishes this small family owned business is popular at all times of the day from morning to dinner. website
Moulay Ali Ben Rachid - Named after the founder of the city this Moroccan restaurant specialized in fresh seafood brought daily from the nearby. Serving mostly local residents of Chefchaouen but also welcoming our esteemed visitors and tourists you may try here a mixed seafood platter, a fried fish or shrimps and calamari. Potatoes, salads and rice as additions are available. The restaurant opens for lunch and dinner.
Special Moroccan dishes
Being on international trade routes for at least 500 years has meant that both foods and chefs from all over the world have visited and influenced the cuisine of Morocco.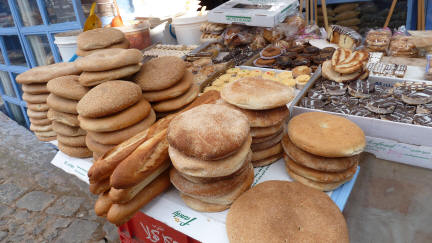 Tajine - Of course this most famed dish from Morocco is not just available but everywhere found in Chefchaouen, but here you will find traditional forms and variety that is not seen in other parts of the country. Named for the special cooking pot this is traditional a meat and spices stew cooked slowly over a low charcoal fire, however modern cooking methods now allow this traditional dish to be served promptly in restaurants to your order. Because of the close fitting lid to the Tajine very little moisture is lost and so food can be stewed for a long time to great tenderness and fine mixing of flavors without needing large quantities of liquid, a great benefit in the dry and arid interior of the country.
Couscous - Perhaps the second most famed dish from Morocco this is of course actually an ingredient that can be used in many ways, though the tradition of steaming it over a meat stew is the most popular as it gives the best texture and flavors.
Moroccan Salad - Unlike "salad" in other countries the Moroccan salad often includes cooked ingredients, served warm or cold, and so has a wide range of different textures and flavors. Look out for Zaalouk which uses both eggplants and tomato as we as a similiar dish that uses green peppers, garlic and special species which is known locally as Taktouka.
International Options
Pizzeria Mandala - Moroccans enjoy all types of food and Pizza is one of the most popular as it builds upon the traditional use of bread in every Moroccan meal. Try the Pizzeria Mandala in our city which is the best known for its quickly made and served fresh from the oven pizza with both traditional Italian and locally inspired toppings. Jazz music and home made desserts complete the picture. website